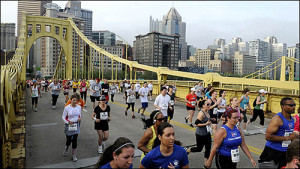 With the spring quickly approaching, so are a lot of marathons. Perhaps Color Run or Color In Motion come to mind as popular marathons that incorporate vibrant colors to make your marathon more fun and exciting. Running a half marathon or any marathon in general is not easy. It will be challenging and take a lot of hard work, but crossing the finish line in the end will make it all worth it. So how do you prepare yourself for this run?
Preparation:
Well first thing you need to decide what marathon you want to participate in. Runners need to give themselves at least a year to ensure the best result, however 10-16 weeks of training can also be essential in preping for the run. Each week you want to gradually increase your mileage. Also, you want to train from 4-5 days a week, giving yourself two days to rest. Before you begin each run make sure you stretch before and after.
Nutrition:
You want to have a well balanced nutrition in order to keep you strong and have an adequate recovery. Carbohydrates help provide the fuel runners need, with that said 65% of your calories should come from carbohydrates, 10% from protein, and 20-25% of your total colories should come from unsaturated fats. You want to ensure you're drinking plenty of water in order to remain hydrated.
What to wear:
While you train you want to look as stylish as possible, however the most important part is being comfortable. My top four choices that are a must for running are:
Nike Dri-Fit running top. This top will allow breathability; it is light weight, and comes with reflectors if you are chosing to do some training at night.
Running Tech Capri, it is also Dri-Fit, which again provides breathability, comes with a string inside so you dont have to worry about them falling, a pocket to put your keys in, and reflectors as mentioned above.
Running Socks, these are also Dri-Fit and are anti blisters. And last is your running shoe, definitely the most important item you need to train in.
Nike Pegasus 31, which provides a neutral ride for any runner, provides cushioned. A Pegasus is used more for a distance run, if you want to increase speed you might want to try a lighter shoe such as a Free, Vomero Elite, or LunarRacer.
Remember it's all mental; if you believe you can do it you can. Even the fastest runner had to start somewhere. "If you have a body, you are an athlete!" -Bill Bowerman
If you're planning to run a marathon this year, let us know in the comments or using #glamorouspaper which marathon you're participating in and how you're training for it!
(Visited 113 times, 1 visits today)