In case you missed the Grammys last night, we got you covered. If you did watch, recap the night and see what you missed. So get your fancy clothes on, it's that time of year again for the most glamorous and diversed music award show, the annual 57th Grammy Award Show. They took place Sunday February, 8 at Staples Center in Los Angeles hosted by entertainment icon LL Cool J. The show opened up with a performance by Miranda Lambert as she performed her very popular song, "Little red wagon."
The first award went out to Sam Smith for Best pop vocal, with his grand hit 'Stay with me.' Kanye West took the stage for his first performance of the night as he performed his very touching song, "Only One." It is nice to see West always innovating his style, and show another side of music other than rap.
Madonna may be 56 but her Grammy performance for "Living for Love" proves that she still has the "it factor." The years can go by and Madonna does nothing but continue to prove why to this day she is still considered a music icon.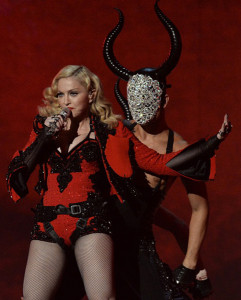 Ed Sharon slowed it down a bit as he performed "Thinking Out Loud," followed by Jeff Lynne joining him to perform "Evil Women," The two then sang a duo to 'Mr. Blue Sky.'
This is why you have to love the Grammys, it truly is all about the music. So many talented musician under the same room to celebrate a year of extraordinary music.
The very talented Gwen Stefani took the stage along side Maroon 5 singer Adam Levine next to sing "My Heart is Open."
"Are you ready to take it to church?" shouted LL Cool J and Beck as Hozier took the stage. Annie Lennox then joined him for the ending of the song which followed with performance of "I Put A Spell On You."
Pharrell brought the whole church choir with him as he sang "Happy" in his ever so fashionable bellhop attire.
President Barack Obama and domestic violence survivor Brooke Axtell speak out during the award show on domestic violence. "I want you to know that you are worthy of love…reach out for help, your voice would save you" shared survivor Axtell, as she held back tears. The message was followed by Katty Perry's performance to "By The Grace Of God."
Eric Church made all country fans proud as he performed "Give Me Back My Hometown." The country performances continued with Brandy Clark and Dwight Yoakam, "Hold My Hand."
Not tired of music yet? Good, the performances continued throughout the night as Rihanna, Kanye West, and Paul McCartney sang "Four Five Seconds."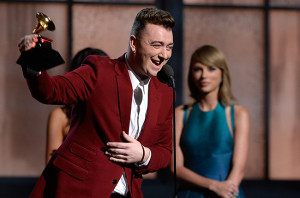 To add to his already highly successful night, Sam Smith took the stage with Mary J. Blige to performed "Stay With Me." Smith thanked the man he fell in love with and broke his heart for landing him four Grammys last night.
As Prince stepped on stage to present the winner for album of the year, he was received with nothing more then a standing ovation by the entire audience last night. Beck beat out Beyoncé for album of the year, which surprised many in the audience and viewers at home. Kanye almost pulled a Kanye by going on stage and nearly interrupting Beck as they gave their acceptance speech.
For all of the spanish music lovers out there watching the show, you where not left out as Juanes performed "Juntos" (Together).
Sia performance to her song "Chandelier," was unique and definitely memorable. Her contemporary dance performance showed us why her sound is distinct and amusing.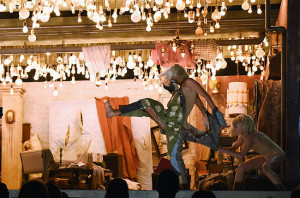 The show paused with the performances as they played a slide show in honor of all of those artist who passed away this past year.
The show closed with a performance by the Queen B, "Take My Hand, Precious Lord," followed by John Legend and Common's "Glory."
Cheers not only to the successful and talented artist that took home an award, but also to all of the nominees and attendees who in one way or another for keeping music alive.
Some of the Winners of last nights show, for the full list of winners that where not announced during the show check out Yahoo.
Best Pop Vocal Album- Sam Smith, In The Lonely Hour
Best R&B Performance- Beyonce, "Drunk In Love"
Best Country Album- Miranda Lambert, Plantium
Record of the Year- Sam Smith, "Stay With Me"
Album of the Year- Beck, Morning Phase
Song of the Year- Sam Smith, "Stay With Me"
Best Pop Solo Performance- Pharrell Williams, "Happy"
Best New Artist- Sam Smith
What did you think about the Grammys last night? Happy with the winners? Disappointed B didn't win album of the year? Let us know in the comments or on Twitter using #glamorouspaper.
(Visited 136 times, 1 visits today)